With CTECHI portable power station, you can easily stay charged while on-the-go and living the outdoors life. CTECHI is as safe as it is powerful. Enjoy the peace of mind that comes with surge and short circuit protection, temperature control, and a pure sine wave inverter. And for those just in case scenarios, CTECHI provides the power to charge your important devices. Now you can be ready in case of an emergency or power outages.
Charge smartphones, tablets, laptops, small appliances like electronic blanket, mini cooler, CPAP etc. Take the lightweight CTECHI portable power station with you on cottage trips, excursions, or anywhere you might need power. Be the life of the party at the backyard barbecue or tailgate.
| | |
| --- | --- |
| Model | CTECHI BT1200S |
| Battery Type | LiFePO4 |
| Product Brand | CTECHI |
| Battery | 921Wh (25.6V 36Ah 288000mAh) |
| Cycle Life | 2000 times |
| USB-A1 Output Port | 5V2A*4 |
| DC Input | 28.8V/5-10A |
| AC Output Port | 220V/50Hz 60Hz or 110V/50Hz 60Hz Peak Power: 1500W |
| Weight | 15.5kg |
| Size | 370*243*225mm |
| Charging temperature | 0℃~45℃ |
| Discharge temperature | -20~ 60℃ |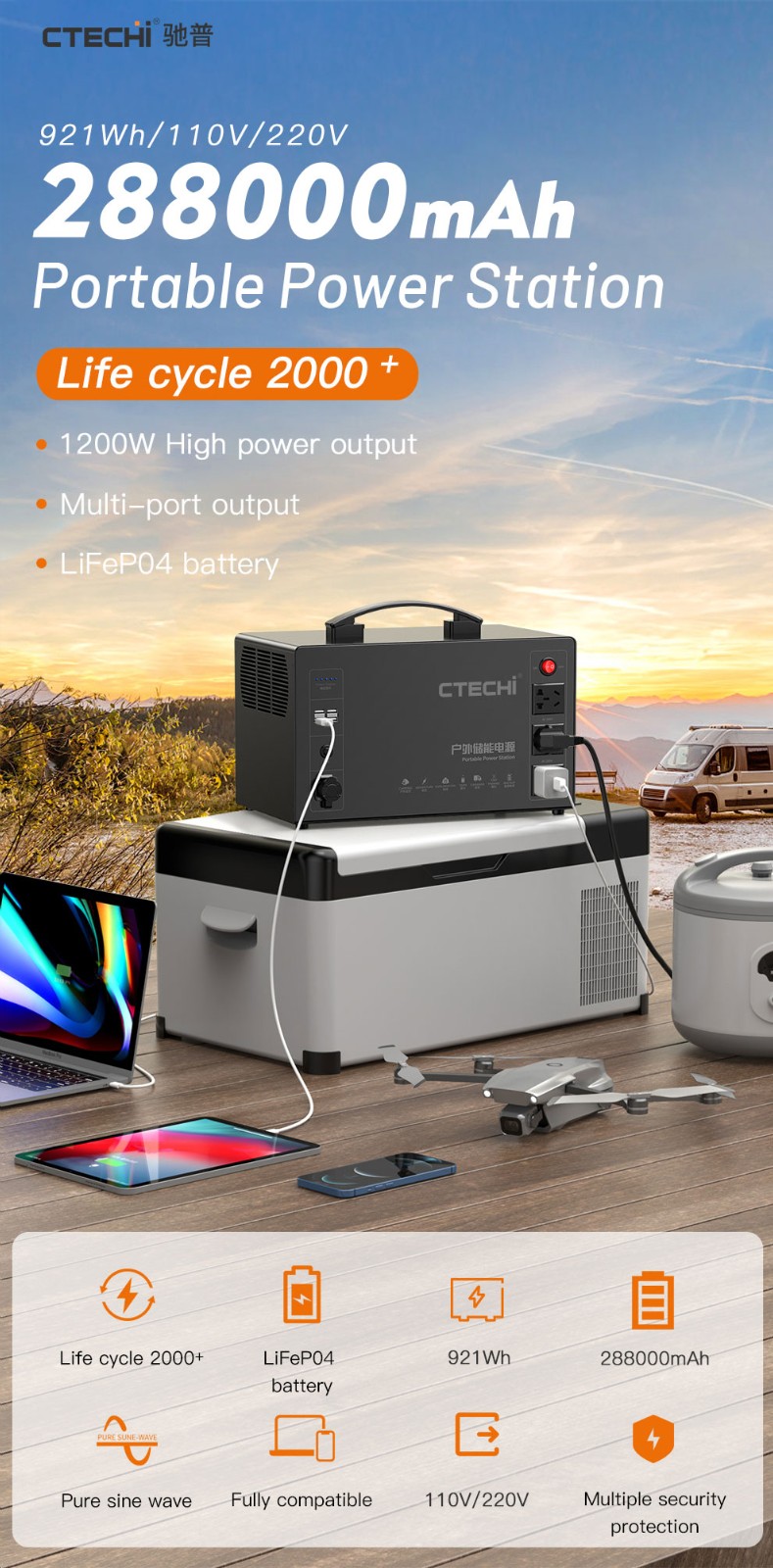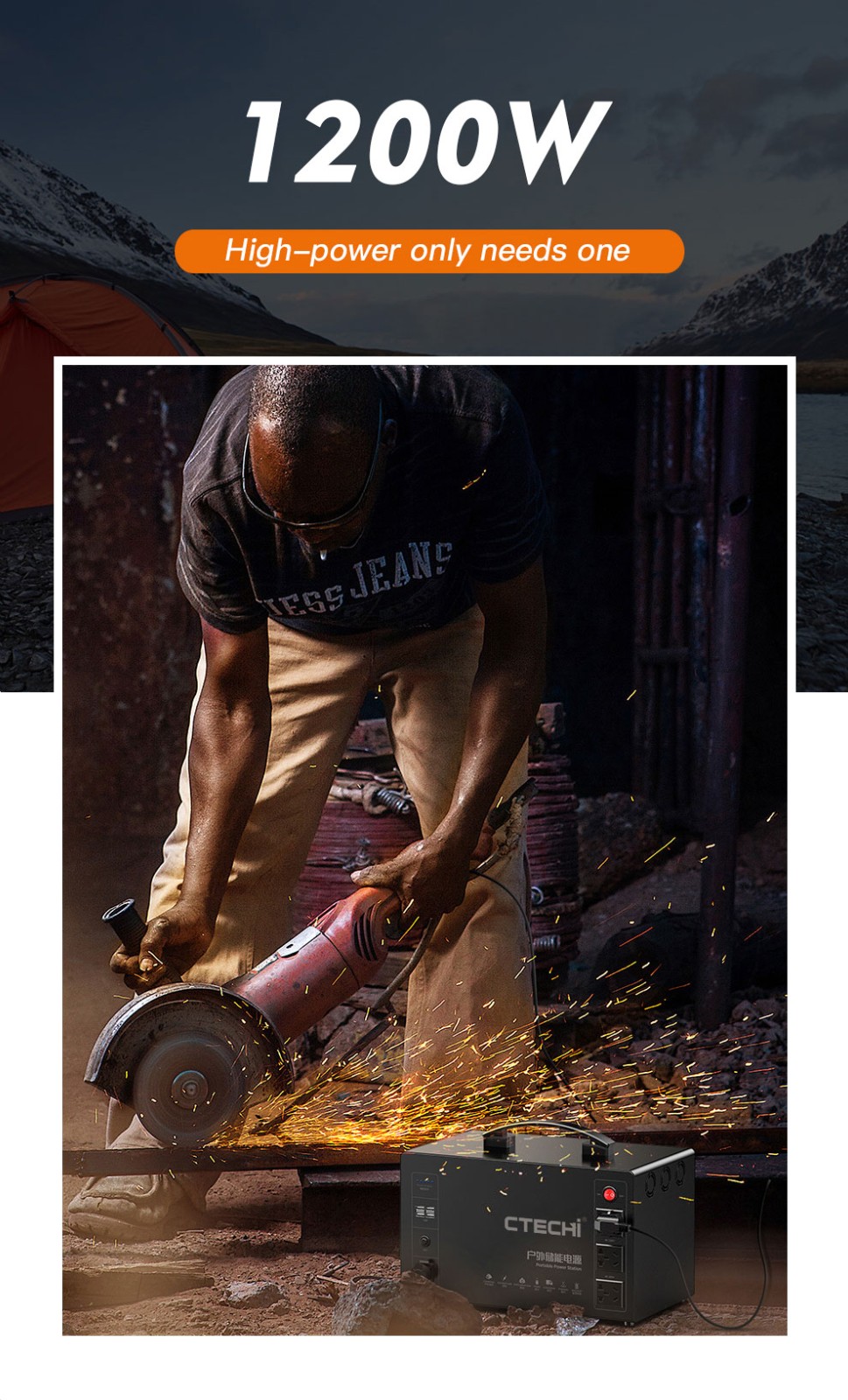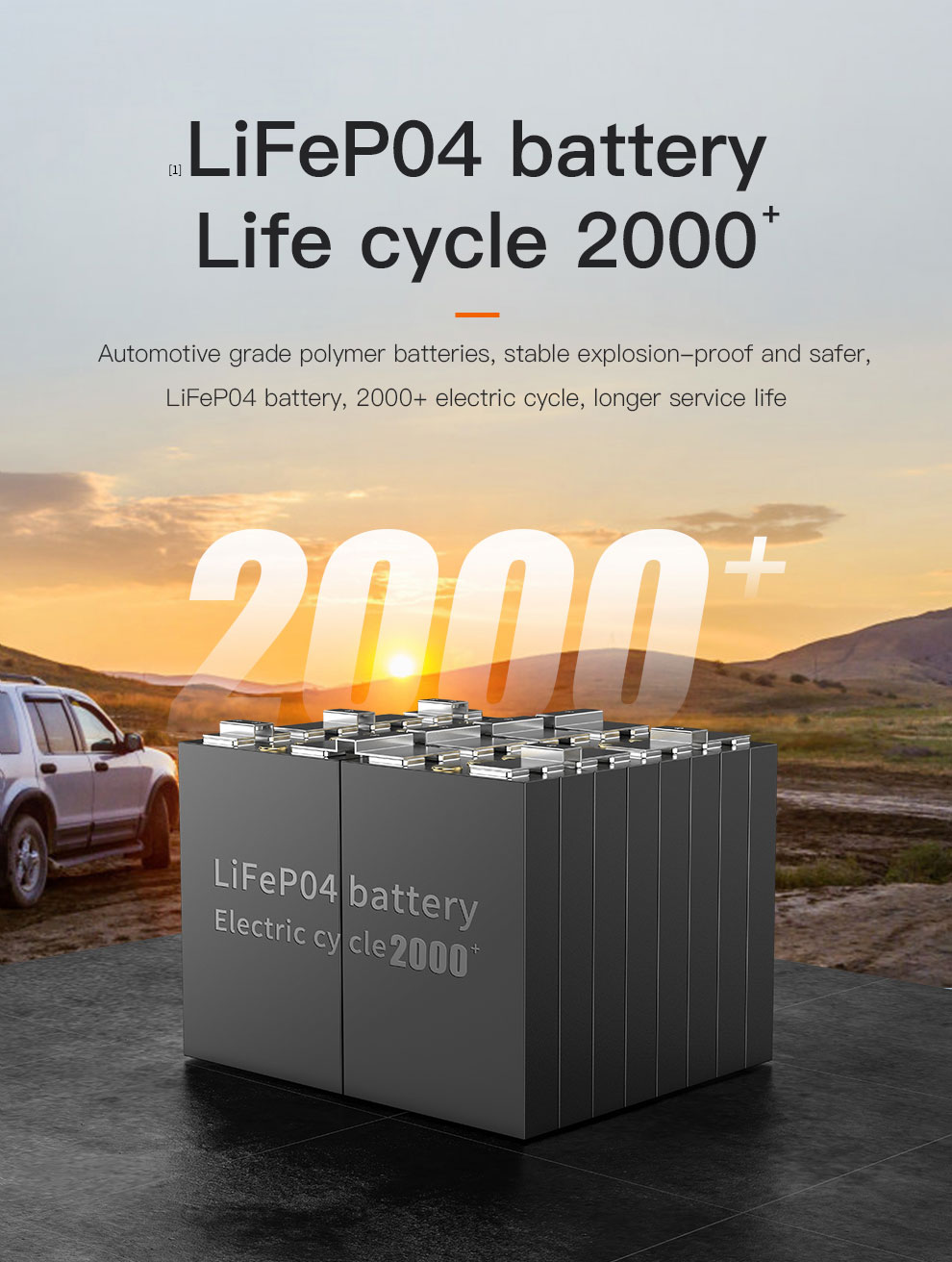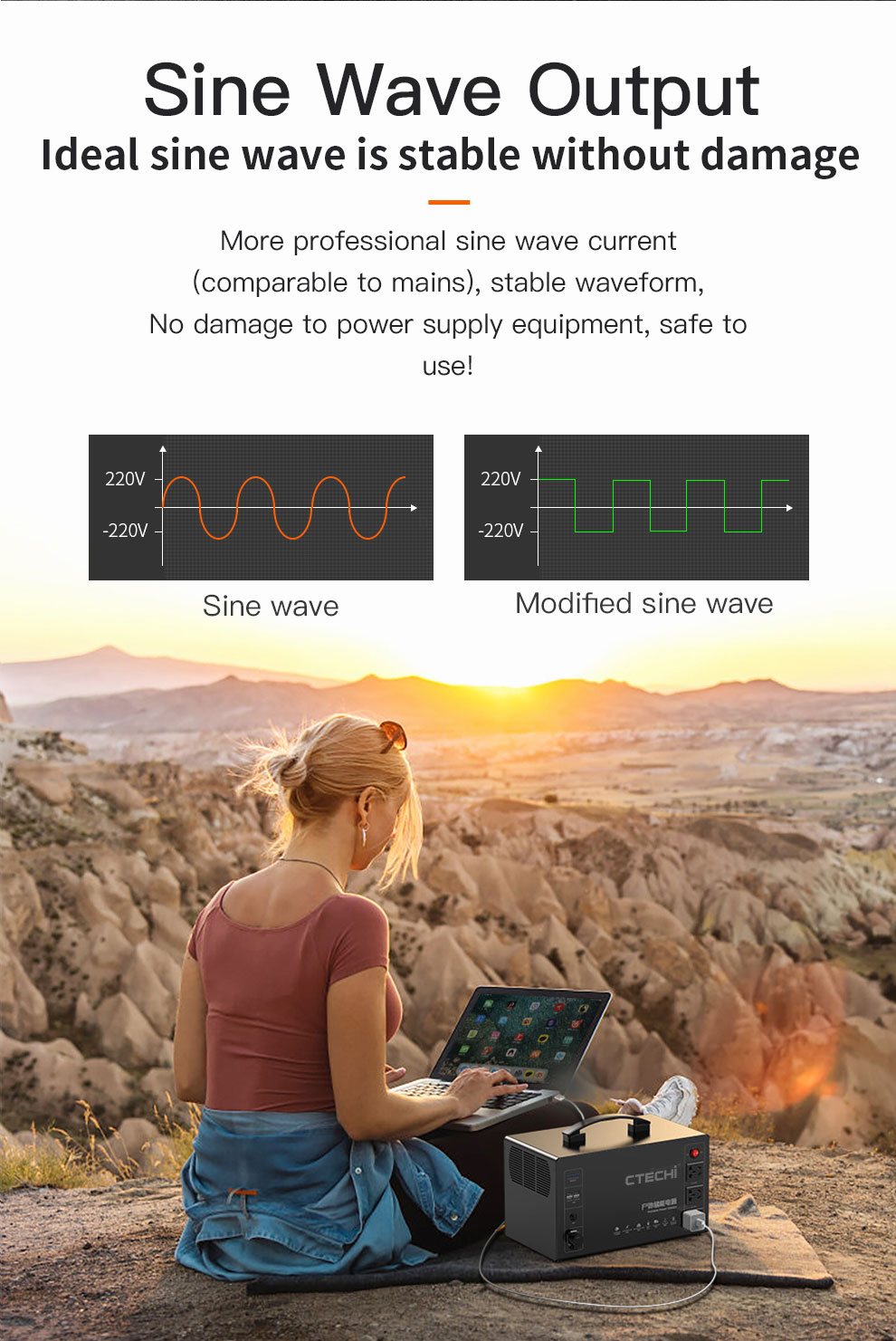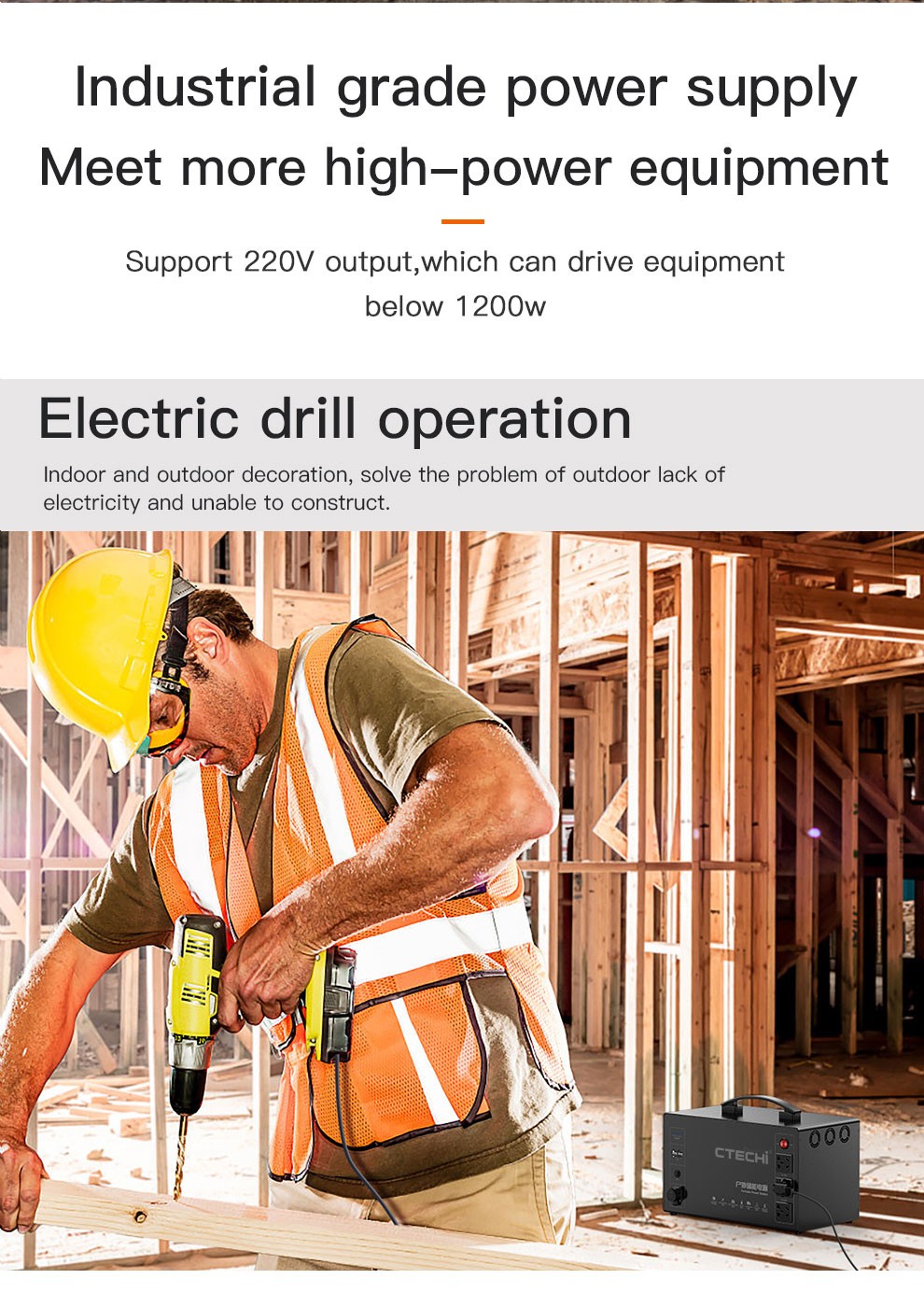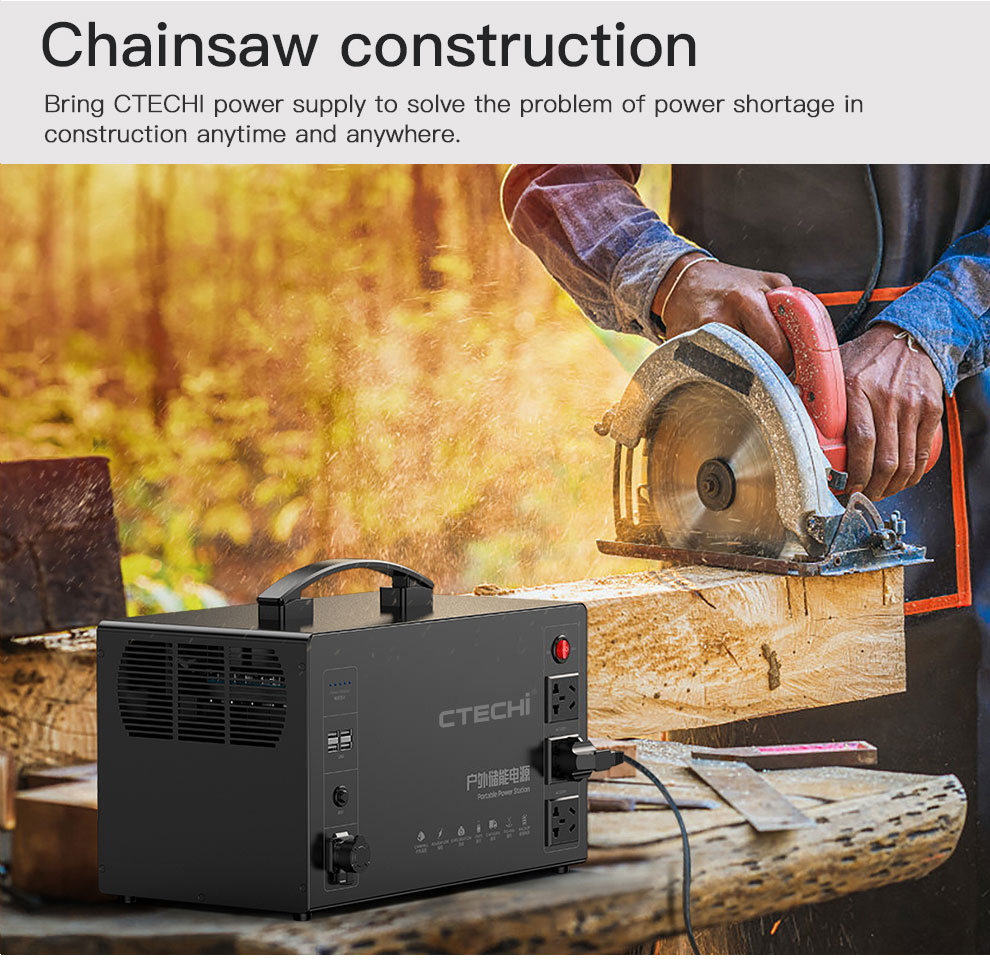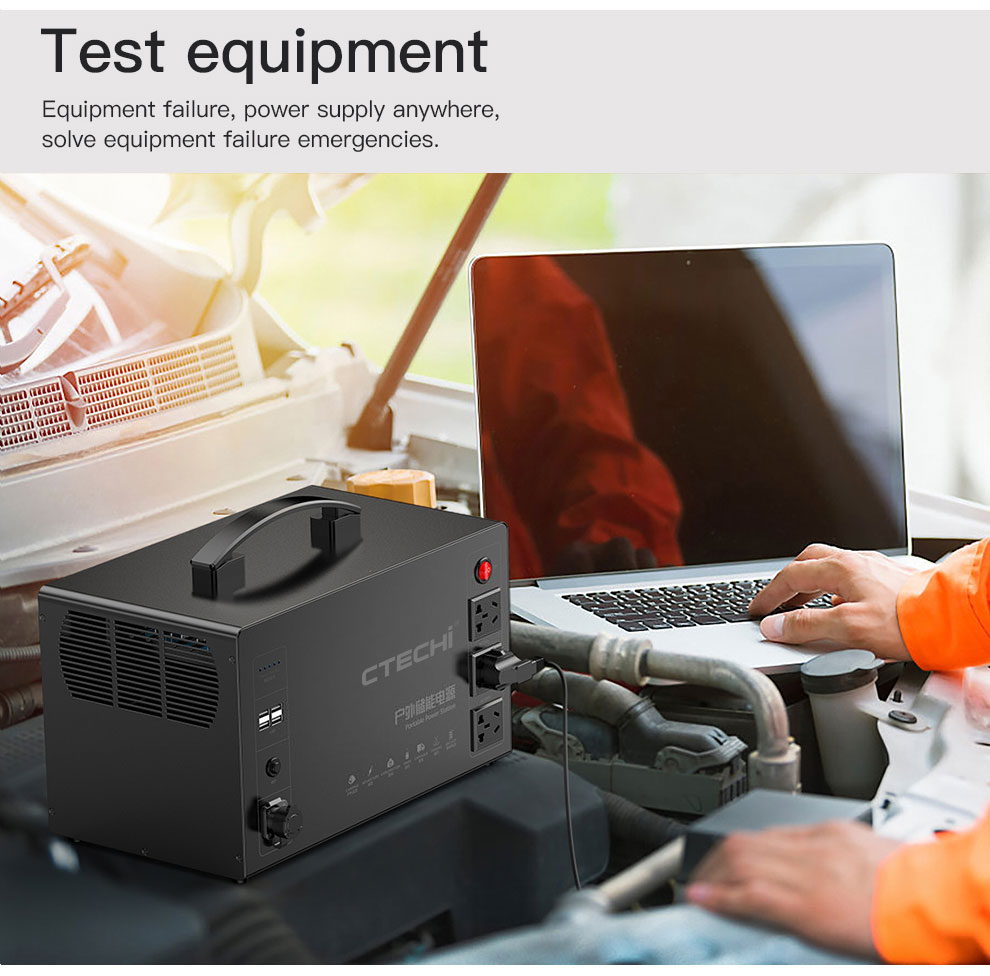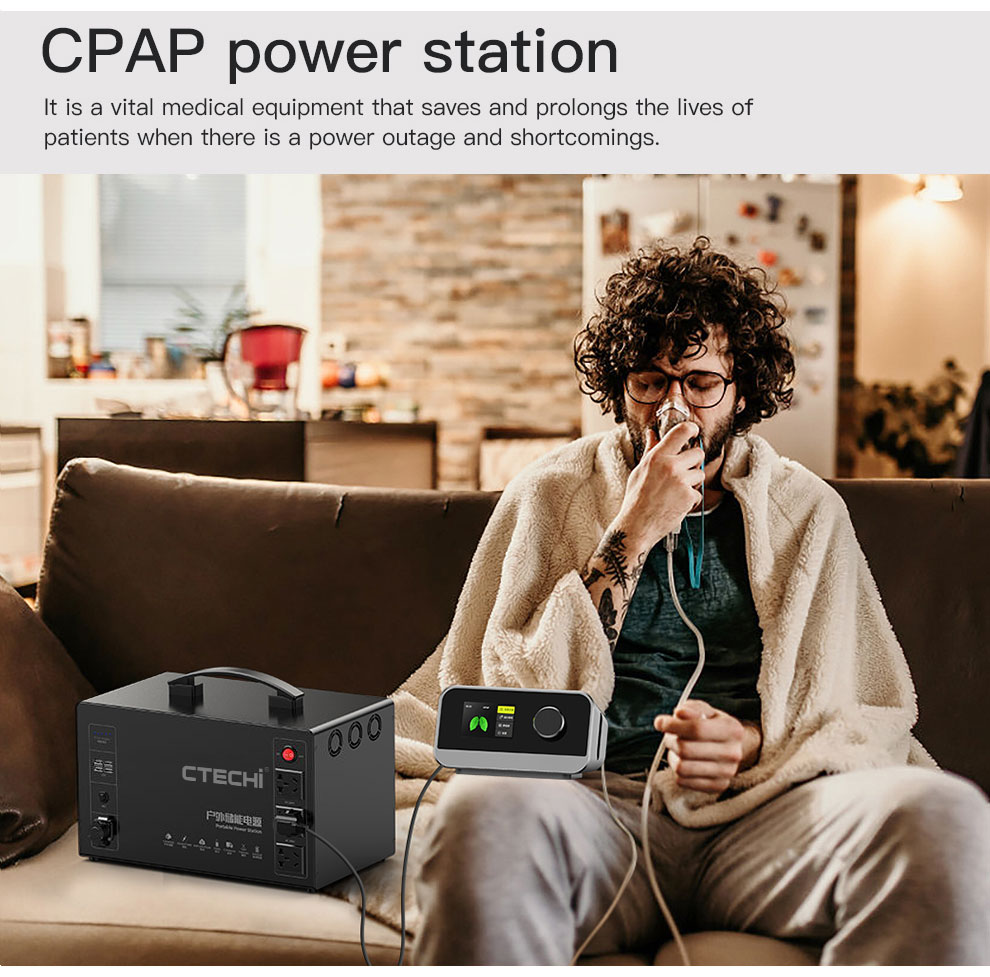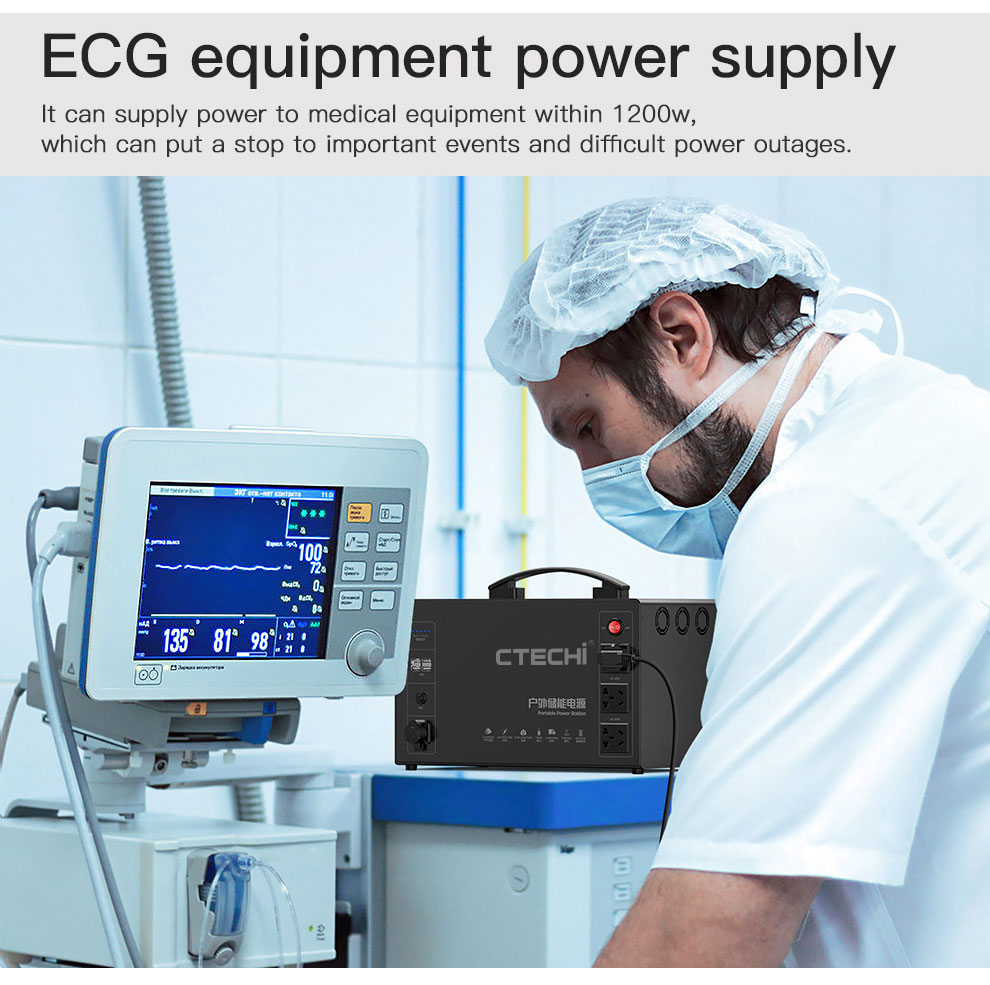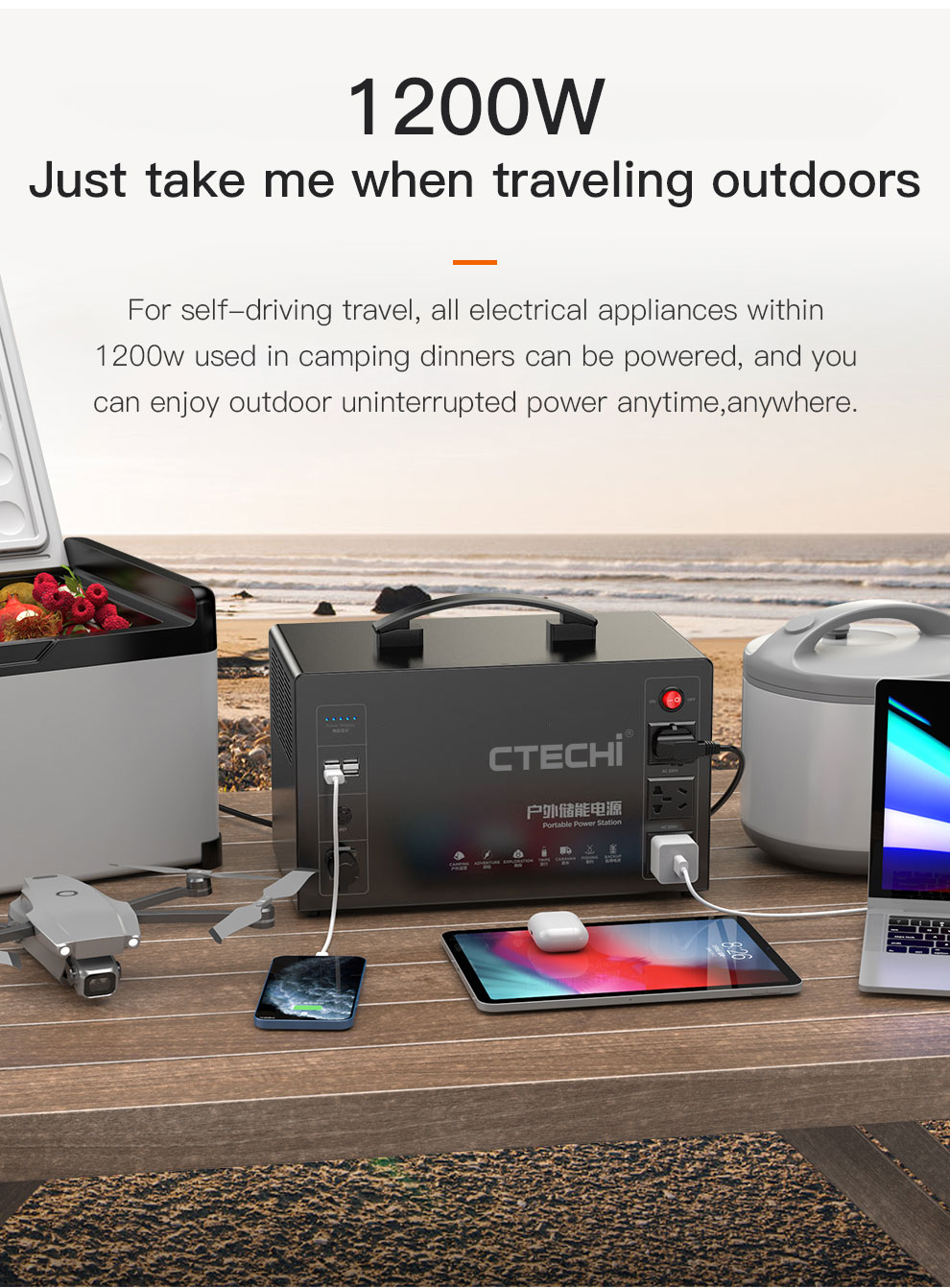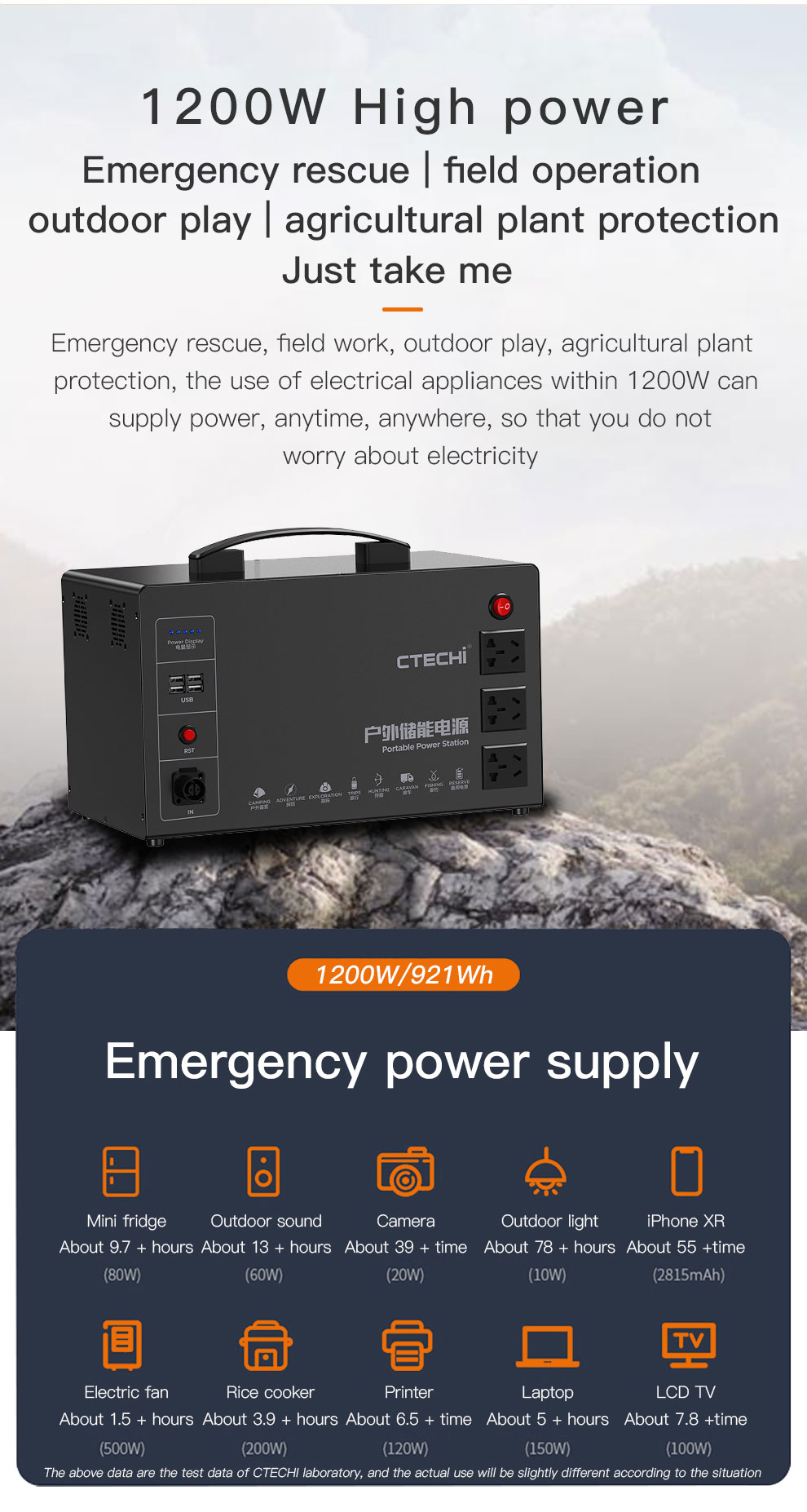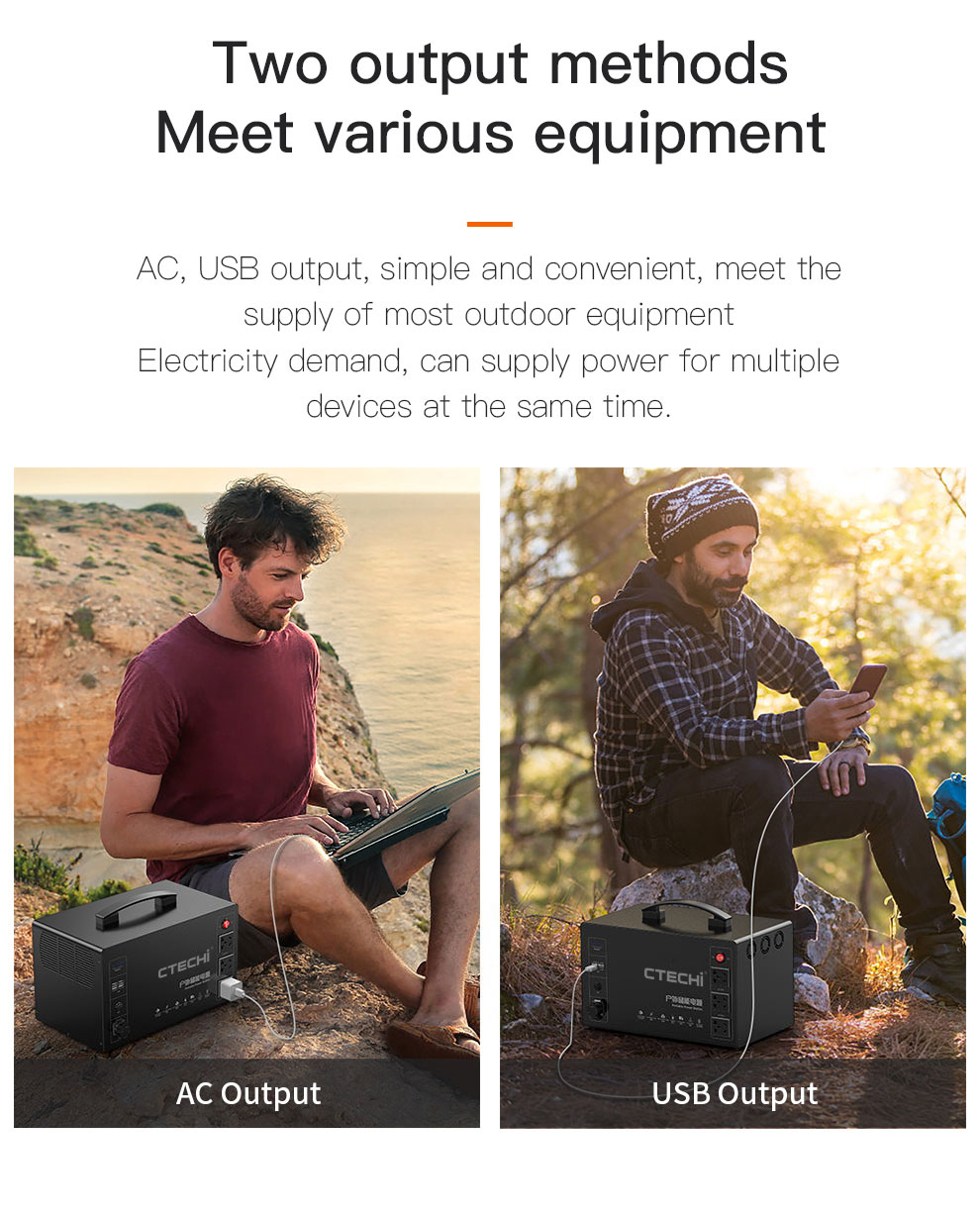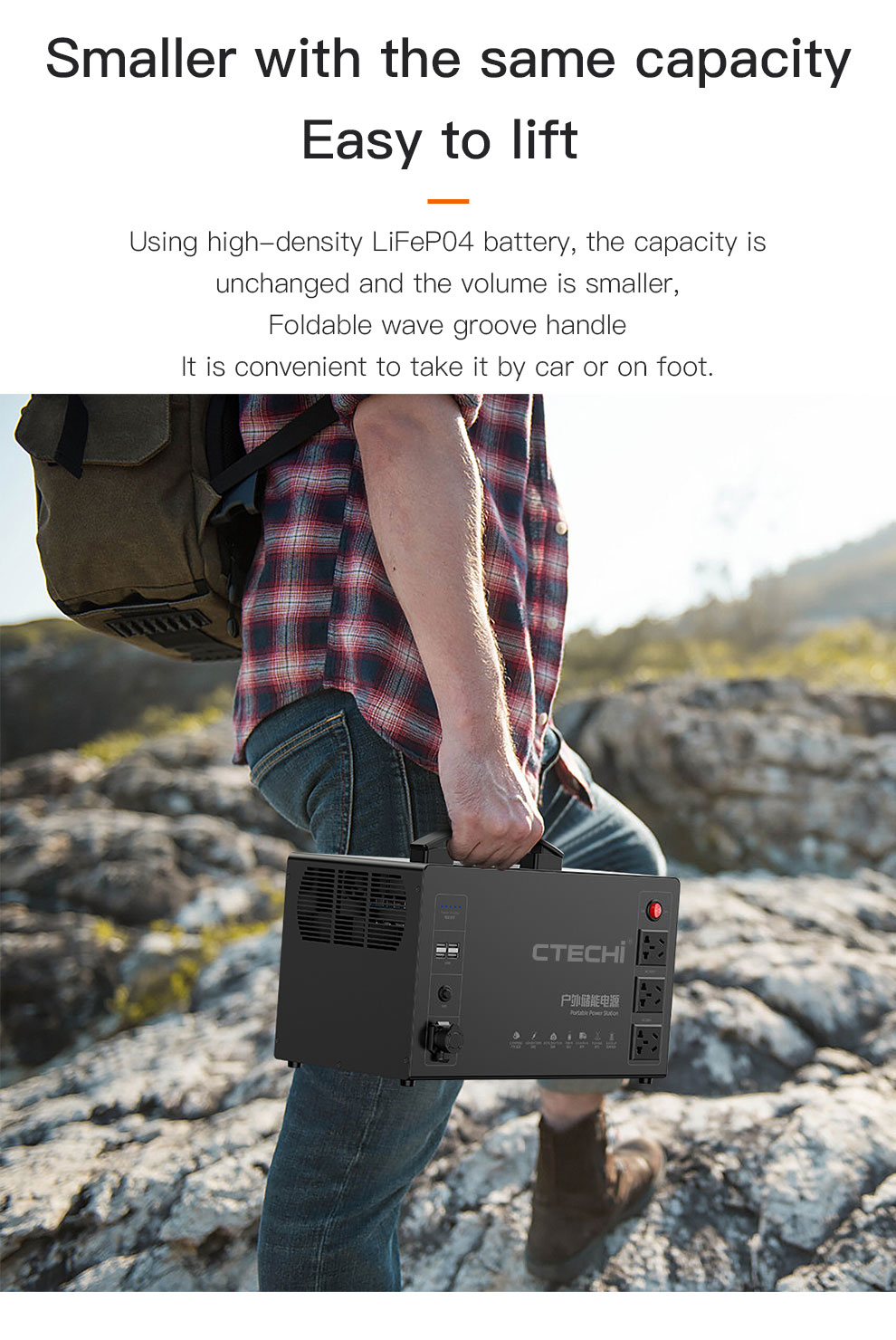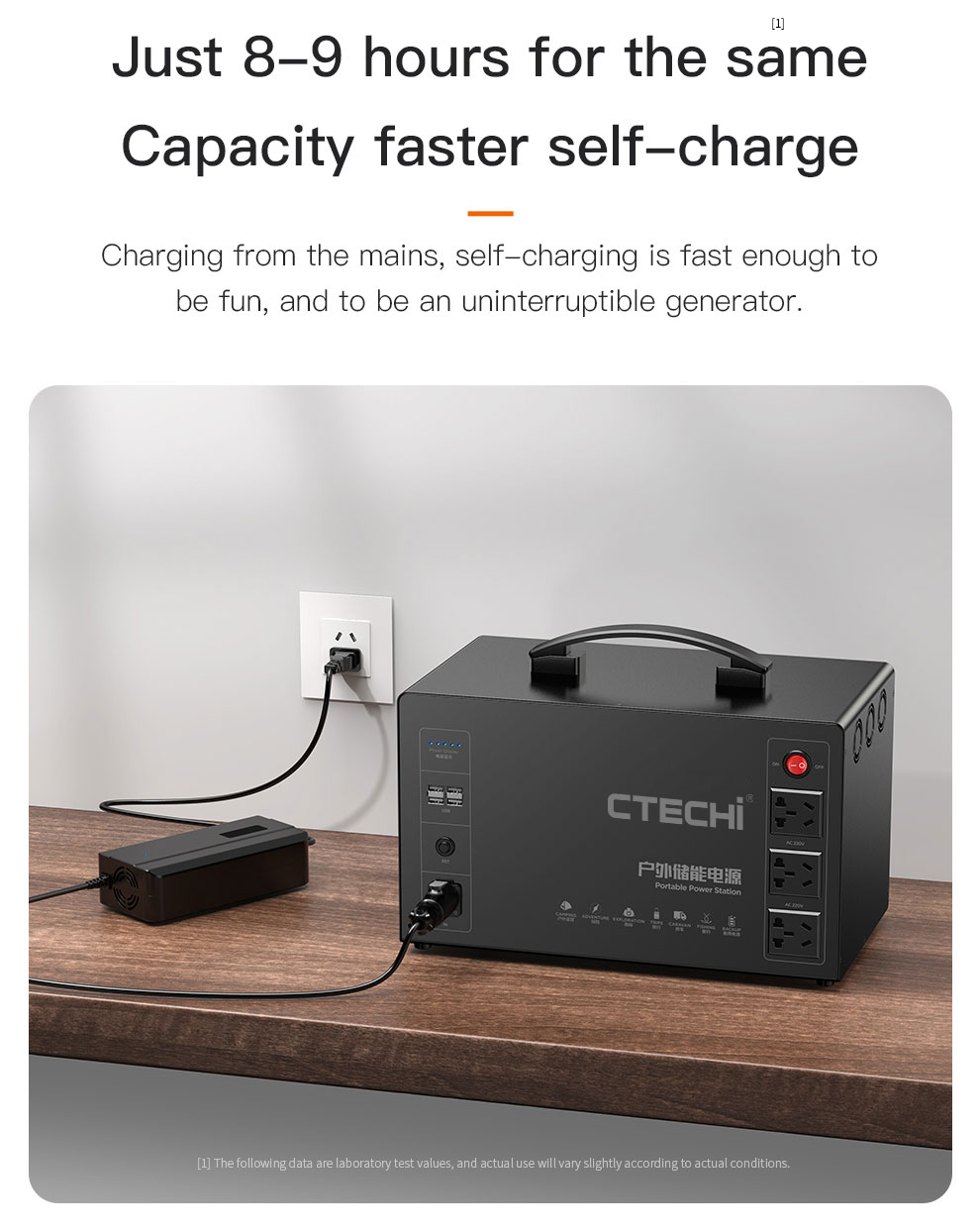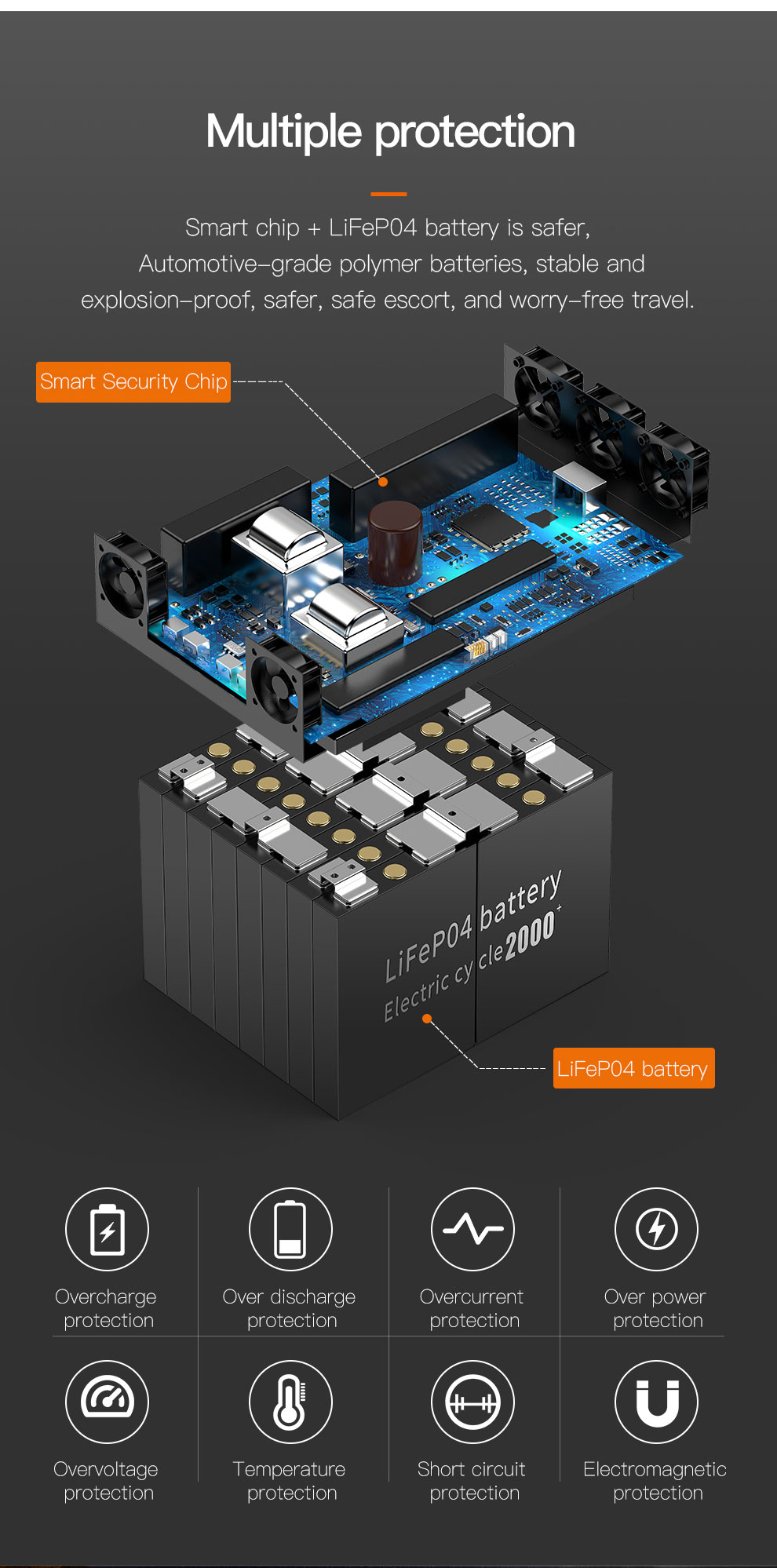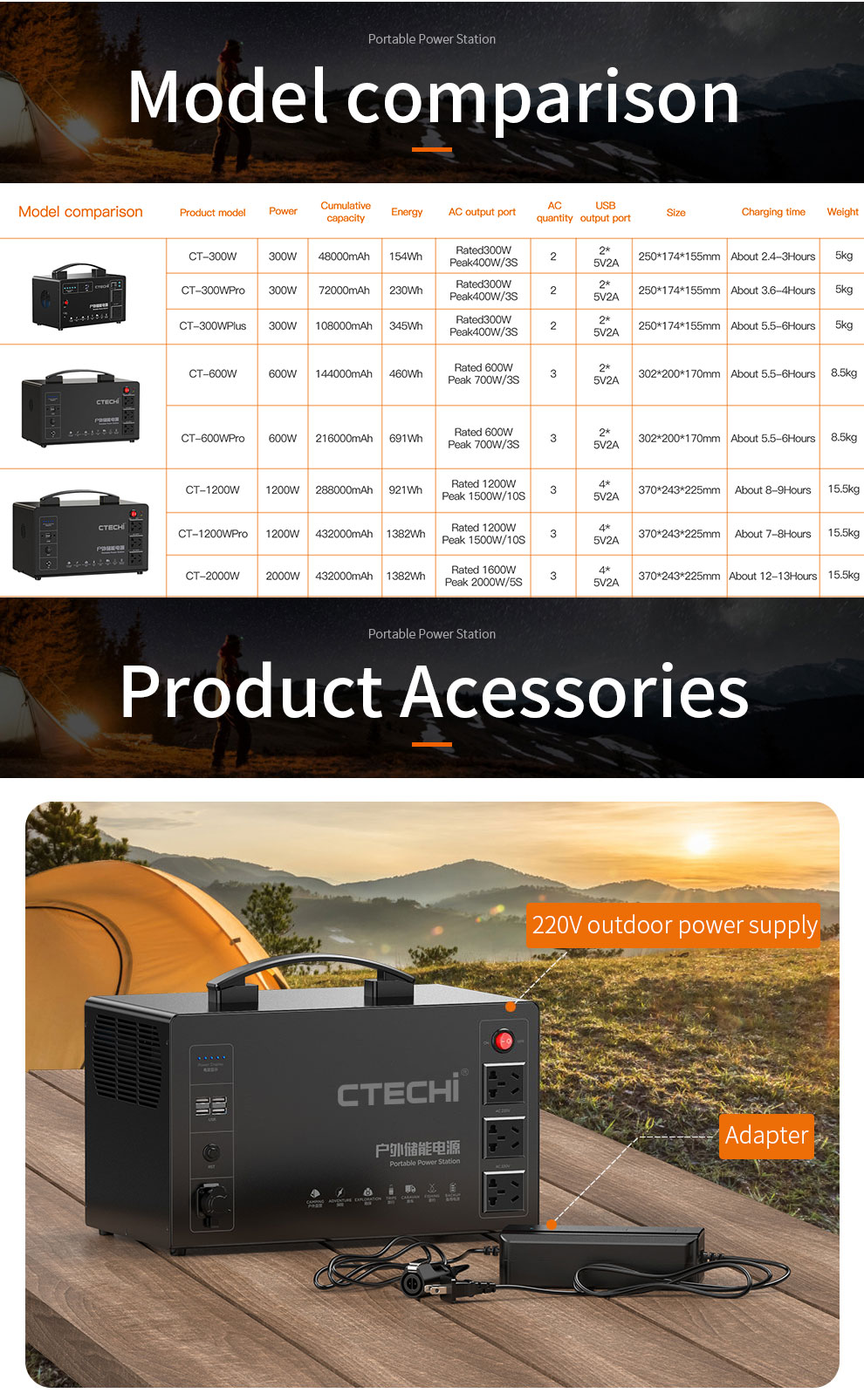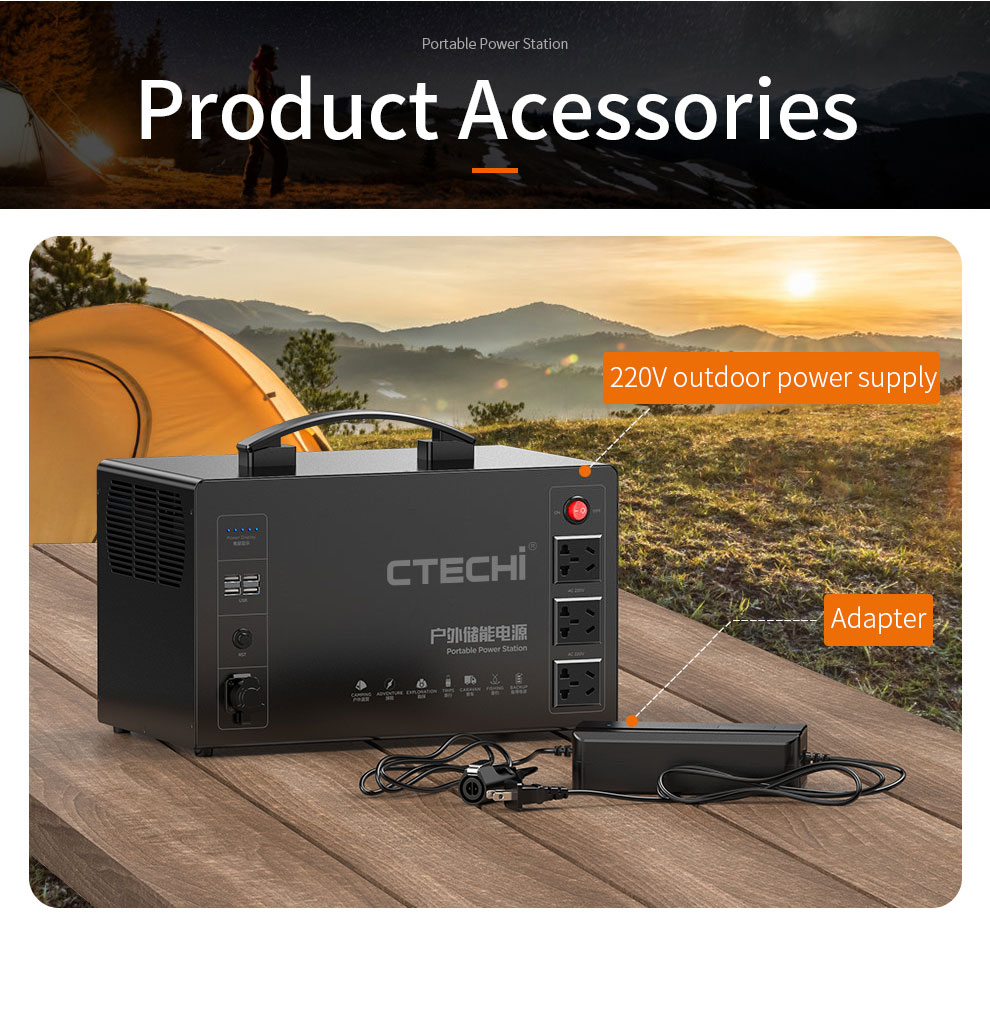 FAQ:
Question:What are the benefits of a portable power station?
Answer:As a battery powered generator, it can not only work without noise, fume and pollution when compared with a gas powered generator, but also could be recharged by compatible solar panels, which could harness the renewable and economical sun anywhere you go.
Question:How does a portable power station work?
Answer: It boosts the DC voltage by the DC to AC inverter system. After fully charged by solar panel, car charger or AC outlet, you could connect it to your small and medium devices from AC/DC/USB, and it would change the power to alternating current before sending it out to power a device, like your laptop and TV.
Question:What is a portable power station?
Answer: Portable power station is a rechargeable lithium-ion battery. Easily recharged by solar panel, AC outlet and car charging. Features AC/DC/USB charging ports, they can keep all your devices charged, from smartphones, tablets, laptops, to CPAP and small appliances, like fan, heater, electric blankets, etc.
Question:How should I deal with my battery pack before it is stored for a longer time?
Answer:The battery level of the portable power station will drain gradually with the time goes. So it's strongly recommended to make it fully charged before you don't use it over 3 months.
Question: Why the CTECHI portable power station is also called solar generator?
Answer: CTECHI portable power station can store the energy absorbed from the solar panel, that's why we also call it a solar generator.
Question: Can I take CTECHI portable power station on a flight?
Answer: Sorry, you can't. Under FAA regulations, you are not allowed to take any battery exceeding 100Wh on a plane.
Question: What's the difference between pure sine wave and modified sine wave?
Answer: Modified sine wave inverters are very affordable. Using a more basic form of technology than pure sine wave inverters, they produce power which is perfectly adequate for powering simple electronics, like your laptop. Modified inverters are best suited for resistive loads which don't have a start up surge.
Pure sine wave inverters use more sophisticated technology to protect even the most sensitive electronics. Pure sine wave inverters produce power which equals – or is better than – the power in your home. Appliances which may not function properly, or which may be permanently damaged, without pure, smooth power will be safe with pure sine inverters.